The Race Of Gentlemen at Harley-Davidson's 115th
The last time a motorcycle race took place on a Milwaukee beach was over a century ago.
Racing
Not since 1908 has a motorcycle race taken place on Milwaukee's lakefront.
That changed on Saturday, September 1st of 2018, as daring riders muscled both vintage and modern V-Twin racing machines around a quarter-mile oval race track - carved out of the sand - at Bradford Beach.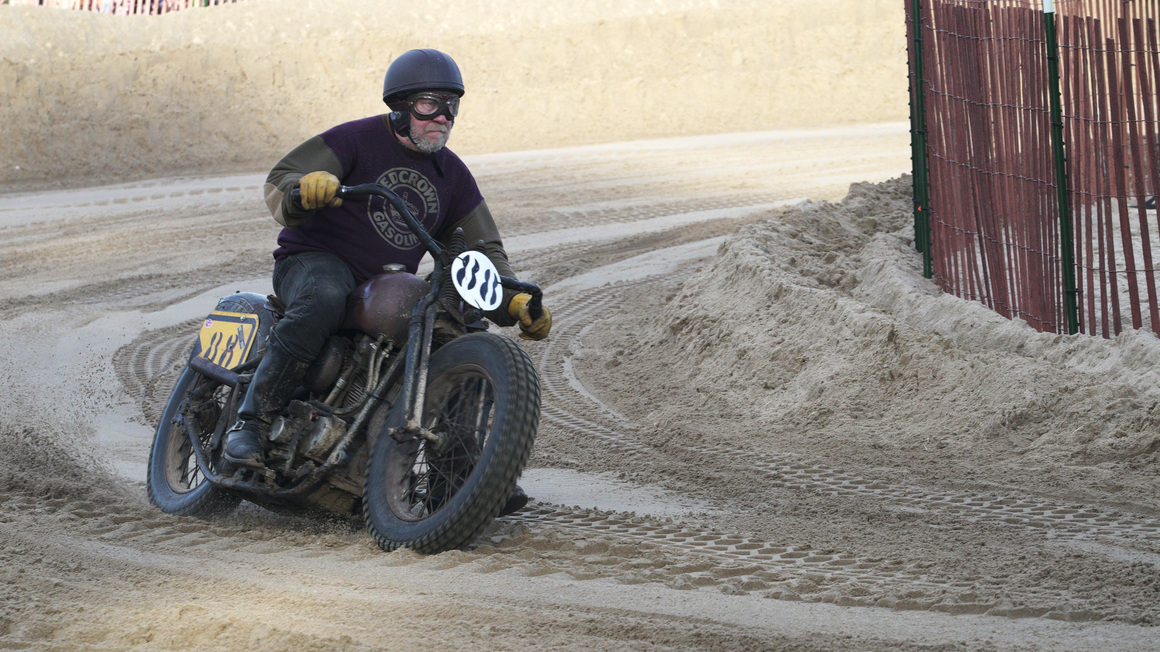 Riders muscle their vintage machines through the treacherous sand at Bradford Beach. (Photos by Don Ford)
The race was one of many racing events held over the long labor day weekend, as part of Harley-Davidson's 115th birthday celebration. The event was organized by The Race Of Gentlemen (TROG), a group dedicated to recapturing the racing scene of the past and bringing it to a whole new generation. TROG hosts an annual event in Wildwood, NJ that attracts people from all over the world who attend and race. (
https://www.theraceofgentlemen.com/
)
TROG captured the Post-War vibe, right down to the vintage vehicles and banners. (Photo by Don Ford)
Though modern Harley racing machines were featured, the stars of the show were the vintage bikes - some dating back as far as 1929!

Aaron Kaufman of "Fast & Loud" and "Shifting Gears" raced his own WWII vintage 1942 Harley-Davidson WLA.
Aaron Kaufman of "Fast & Loud" fame, races his 1942 Harley-Davidson WLA (Photos by Don Ford)
The vintage races were like a trip back in time as the riders adorned period-appropriate riding gear and exuded "old school" masculine cool and swagger. One of the riders even took to the track with a "ciggie" in the corner of his mouth and a knife strapped to his hip.

The riders exuded as much character as their weathered bikes. (Photos by Don Ford)
The men weren't the only ones ripping up the sand as there were also some hard-charging ladies participating as well.
A female rider takes on the sand along side her male counterparts. (Photo by Don Ford)
Spectators and riders came from far and wide to participate. All of the riders put on a hair-raising show of skill that left many spectators wide-eyed and breathless.

Rider Danny Holbus takes an impressive high line along the sand berm. (Photo by Don Ford)
When the sun set, the sounds of V-Twin engines faded into the history books. The Race Of Gentlemen event was an amazing way to celebrate Harley's prized racing heritage and bring old school racing to the current generation. Hopefully it won't be another 100 years before the next race.
Bike #50 leading the pack at Bradford Beach as the sun sets. (Photo by Don Ford)
Dream Machines Video Series has assembled a short montage that captures some of the epic sights and sounds of the day.

Turn up your speakers and hold on, for The Race Of Gentlemen!

Written by Don Ford
for pistonrepublic.com